An Insider's Guide to the Phlebotomy Course in Connecticut – Everything You Need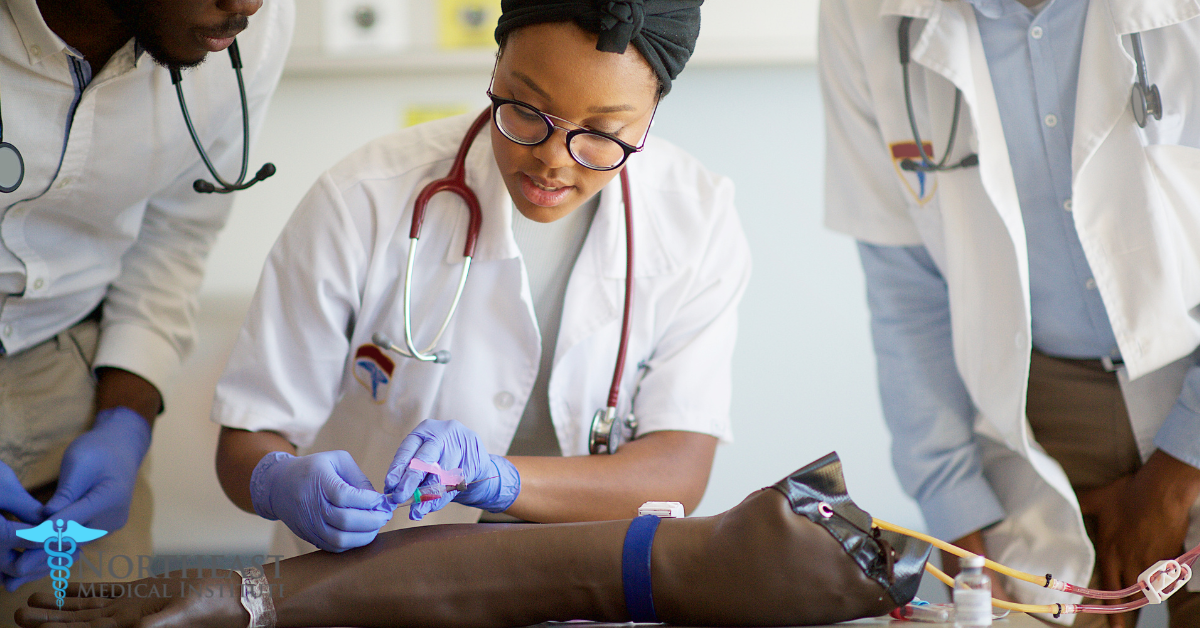 Are you a student in Connecticut interested in taking the phlebotomy course? If so, this blog post is for you! Phlebotomy is quickly growing in demand as an allied healthcare field, and it requires specialized knowledge and training to become certified. We'll take a look at what the course covers and provide all of the information that you need to know before pursuing certification. This insider's guide will help you get started on your path to becoming a phlebotomist in Connecticut. We'll discuss the prerequisites, costs, classes offered, job opportunities, and certification requirements so that you can have the best chance of completing this important certification process. Ready? Let's dive right into our comprehensive guide to getting your phlebotomy license!
Outline:
Overview of the Phlebotomy Course in CT and its Requirements
What You Need to Know About Becoming a Certified Phlebotomist 
Preparing for the Certification Exam – Study Materials, Tests, and More 
Career Opportunities Available Once You Pass the Examination 
The Cost of Taking the Course and How to Pay for it 
Where You Can Find More Information About the Course and Certification Process
Overview of the Phlebotomy Course in CT and its Requirements
If you're interested in pursuing a career in the medical field, then phlebotomy might just be the ticket for you. Phlebotomists are responsible for drawing blood from patients, and their role is critical in diagnosing illnesses and diseases. In Connecticut, individuals can enroll in a phlebotomy course that teaches them the necessary skills and knowledge to become a certified phlebotomist. The course covers a range of topics, including anatomy, physiology, medical terminology, and practical training in drawing blood. Before enrolling, however, it's important to ensure that you meet the requirements, which typically include a high school diploma or equivalent, as well as completion of certain vaccinations and a background check. With the right training and qualifications, you can be on your way to a rewarding career in phlebotomy.
What You Need to Know About Becoming a Certified Phlebotomist
Becoming a certified phlebotomist can be a great option for anyone interested in pursuing a career in the medical field. Phlebotomists are trained to draw blood from patients for lab work and testing, and they play a crucial role in the healthcare industry. To become certified, aspiring phlebotomists must complete a training program and pass a certification exam. Some programs can be completed in as little as four months, making this an accessible option for those who want to start their healthcare career quickly. Additionally, with a high demand for phlebotomists in hospitals, clinics, and labs, job opportunities are plentiful. If you're interested in a rewarding career helping patients and contributing to the healthcare system, becoming a certified phlebotomist could be the perfect choice for you.
Preparing for the Certification Exam – Study Materials, Tests, and More
Preparing for a certification exam can be a daunting task, but with the right materials and preparation, success is within reach. To fully comprehend the exam content, it's essential to have access to use study materials such as textbooks, practice tests, and notes. Taking advantage of these materials allows you to familiarize yourself with the exam format, scope, and level of difficulty. Additionally, it's important to assess your readiness by taking mock exams and reviewing test-taking strategies. Studying for a certification exam is a step-by-step process that requires patience and consistency. With the right mindset and tools, you can enhance your chances of certification exam success.
Career Opportunities Available Once You Pass the Phlebotomy NHA Exam
The phlebotomy NHA exam is a rigorous test that assesses a phlebotomist's competency and knowledge of best practices in drawing and handling blood samples. Once you pass this exam, you unlock a world of exciting career opportunities in the healthcare industry. As a certified phlebotomy technician, you can work in hospitals, clinics, laboratories, and blood banks, among other healthcare settings. You'll have a chance to interact directly with patients and contribute to the diagnosis and treatment of various medical conditions. Some phlebotomists pursue further education and training to become medical laboratory technologists, nursing assistants, or even registered nurses. With the demand for phlebotomy services on the rise, now is the perfect time to take the leap and unlock your career potential.
The Cost of Taking the Phlebotomy Course and How to Pay for it
Interested in becoming a phlebotomist, but worried about the cost of the necessary course? You're not alone. However, there are options available to help you pay for your education. Many schools and training programs offer financial aid, scholarships, and payment plans to qualified students. Additionally, some employers may even be willing to cover the cost of your phlebotomy course if you commit to working for them after graduation. It's important to do your research and explore all of your options before committing to a program. While the cost of taking the course may seem daunting at first, don't let it discourage you from pursuing your dream career as a phlebotomist.
Aspiring phlebotomists can easily find detailed information about the course and certification process by doing some research online. Websites of various institutions and certification organizations provide comprehensive information about the coursework, class schedules, and requirements to be eligible for the certification process. Industry associations and forums related to the healthcare industry are also great resources to connect with experienced phlebotomists and get advice on the best course to take or certification organization to choose. There are also online review sites where previous and current students post their experiences with the courses and certification processes. With such rich resources readily available, it has never been easier for anyone interested in becoming a phlebotomist to get started.
Conclusion
Phlebotomy is a highly rewarding career where you can help make a difference in the world. With the comprehensive phlebotomy course available through Northeast Medical Institute, you'll be well on your way to becoming certified as a medical phlebotomist with all of the training and knowledge you need to become successful. The course provides valuable insight into what it takes to become certified, from understanding the materials available for study to become aware of career opportunities that exist after certification is obtained. You can even cut costs by utilizing financial aid or looking for scholarship opportunities. Lastly, Northeast Medical Institute is always available to answer any questions about the course and provide additional information on certifications and research resources. Register for Northeast Medical Institute's Phlebotomy Course today and start making a real impact in healthcare!