Top 5 Benefits of Enrolling in CNA Classes Today
Are you seeking a rewarding career in the healthcare sector? Do you love helping others and making a difference in their lives? If so, signing up for CNA classes could be the ideal initial step toward realizing your objectives. We will examine the top five advantages of earning a certification as a nurse assistant (CNA) from recognized training courses in this blog post. Numerous factors make this the ideal time for you to begin your career as a CNA, including work security and personal fulfillment. So, take a seat back, unwind, and see how this amazing career path may transform your life!
Students who enroll in CNA classes gain the abilities and information required to work as a certified nursing assistant. Northeast Medical Institute provides a thorough CNA training program that covers every facet of the profession, from patient care to communication and documentation.
Our CNA training sessions are taught by seasoned RNs and CNAs who are committed to ensuring the success of our students. To ensure that our students get the most out of their education, we provide both classroom instruction and practical training.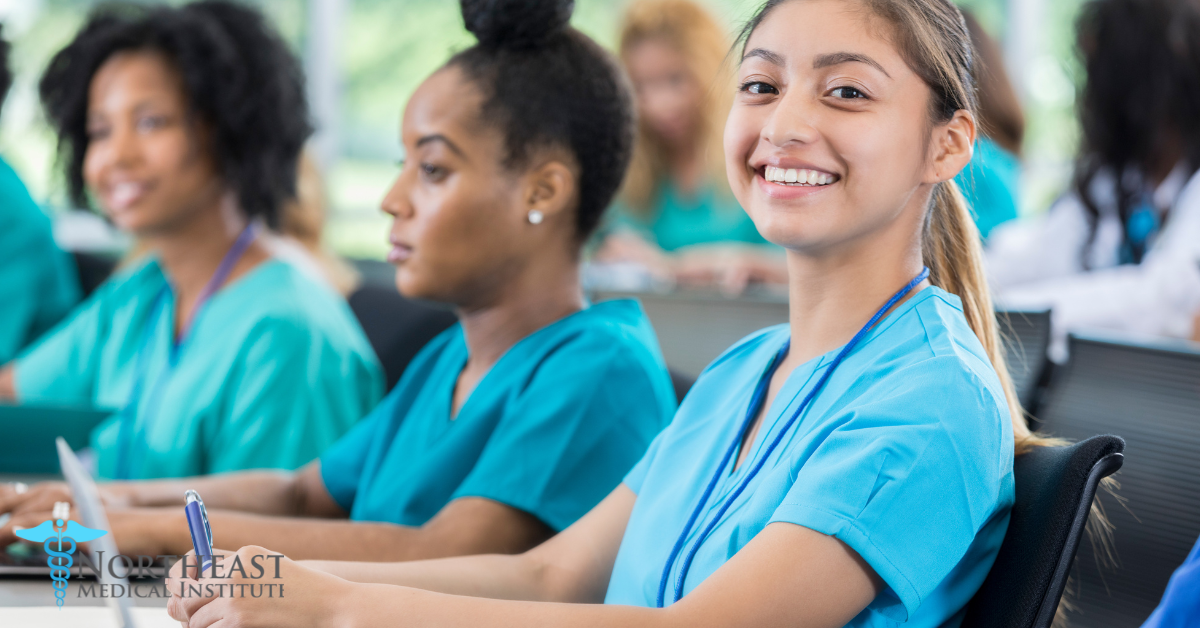 The Benefits of Northeast Medical Institute's CNA Training
There are several advantages to taking CNA classes today. Here are just a handful of the main motives for enrolling in CNA classes:
You will acquire useful experience in the healthcare industry.
You will be able to assist people in a wide variety of settings, such as hospitals, nursing homes, and home healthcare organizations.
You will acquire crucial abilities like how to deliver fundamental patient care,how to interact with patients and families, and how to appropriately document patient information.
You will have job stability and compensation that's competitive in a field that's interesting and expanding.
1. Benefit # 1: Career Opportunities
Students can start a career in medicine by taking can programs. Students who successfully finish the CNA training can find employment in a range of settings, including hospitals, nursing homes, and assisted living institutions. Basic patient care tasks like bathing, dressing, and feeding are often handled by CNAs. Additionally, they could check the health of the patient and take vital signs.
2. Benefit #2 Scheduling
There are many scheduling options available for CNA classes to accommodate your hectic schedule. You have the option of going to classes in the morning, the evening, or even on the weekends. You can finish your exercise at a speed that suits you, thanks to this flexibility.
3. Benefit #3: Possibility of Advancement
Enrolling in CNA classes is a wonderful place to start if you are seeking a job with room for progression. You will have the chance to expand your career as a certified nursing assistant by taking on more duties, seeking further schooling, and turning into a registered nurse. You are positioning yourself for future success by enrolling in CNA programs right now. You can take advantage of the numerous options accessible to you and have a fulfilling career in healthcare with perseverance and hard work.
4. Benefit #4: Job Security
You will always be in demand if you become a CNA. There is a continuing need for competent CNAs due to the healthcare sector's increasing expansion. You can deliver top-notch patient care if you get a certification from a recognized program. You are now a priceless resource for any healthcare facility because of this.
5. Benefit #5: Interactive Learning Environment
The hands-on learning atmosphere is one of the best aspects of taking CNA classes. You will have the opportunity to work with patients while learning how to take care of them. This is a fantastic approach to acquire the abilities required to become a successful CNA.
Why Study at Northeast Medical Institute?
The possibility of career advancement is one of the biggest justifications for taking CNA classes right now. The U.S. Bureau of Labor Statistics projects that through 2026, demand for licensed nursing assistants would increase much more quickly than the average for all occupations. In fact, an 11 percent rise in CNA employment is predicted for that time frame. Hospitals, nursing homes, and other long-term care facilities will require more CNAs as the population ages and persons with chronic illnesses increase.
Enrolling in CNA classes also has the advantage of opening additional career choices in the healthcare industry in addition to the promising job development prospects. After receiving your CNA certification, you may choose to pursue additional study and training to become a registered nurse or a licensed practical nurse. Or you might use your CNA expertise to advance management in a long-term care facility.
Getting certified as a nursing assistant is a fantastic place to start if you are searching for a demanding but rewarding job in healthcare. Additionally, Northeast Medical Institute will be there for you at every turn. You will receive the training and knowledge you need from our authorized curriculum to ace the state certification exam and advance in your new field. Get started on your route to success by getting in touch with us right away to learn more about our CNA classes!
Book Your CNA Classes at Northeast Medial NOW!
Taking CNA classes is a wise investment for your future. They not only offer priceless training but also equip you with the know-how and abilities required to succeed as a Certified Nursing Assistant. With so many advantages, it should come as no surprise that choosing to enroll in a CNA program is among the best moves you can make for your career and for yourself. So, if you want to take the next step toward becoming a nurse someday, sign up for CNA classes right away!