Program Overview
Head to our Hybrid Self Paced Online CNA Program which is currently running instead of the full in class CNA Program. 
This Nurse's Aide/Assistant/CNA program will prepare students for the Connecticut Department of Public Health and Department of Higher Education CNA requirements. CNA, also known as a certified nurse's aide, is an entry-level healthcare job that prepares those interested in becoming a nurse with the experience and exposure to the healthcare field. The CNA program consists of both a classroom section and clinical segment. Each program consists of 102 class hours, which is broken into 42 classroom hours, 27 lab hours and 33 clinical hours. This course provides training in fundamental nursing skills and theory and is designed to meet the Connecticut Department of Public Health requirements while preparing the student for the Pro-Metric State exam. Our Nurse's Aide course is perfect for those who live in Stamford, CT/ Norwalk, CT/ Port Chester, NY/ New Haven, CT/Hamden, CT, Manchester, CT, Hartford, CT. The CNA License attained after testing at Northeast Medical Institute can be filed for reciprocity and transferred to NY and various other states depending on the Dept. of Health regulations in the state you are trying to transfer to.  
Our CNA program is the ONLY 2½ week program in all of Southern Connecticut and Fairfield County.
New Haven/Hartford Campus NOW OPEN with rolling Daytime CNA Schedule!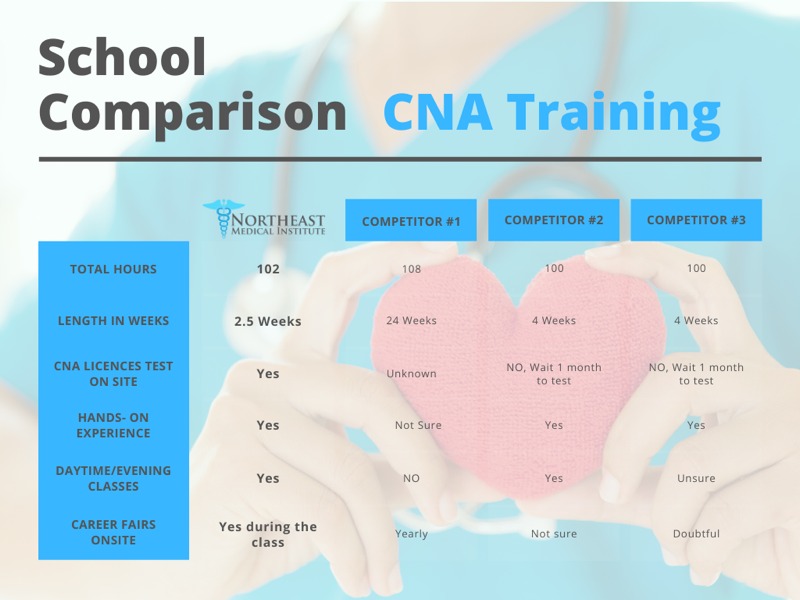 CNA Prometric License Test On-Site
Northeast Medical Institute is an approved Prometric In-Facility CNA testing site. Since we are allowed to perform CNA testing on-site our administrative staff works diligently to schedule nurse aide testing in about 5 business days after you complete your certified nurse aide course. Unlike other schools in Fairfield and New Haven County, Northeast Medical institute students learn in the very same spot as they will be tested in. This allows our students to become comfortable with the supplies and environment they will be tested in. Don't wait to test 1 month after graduation, enroll at Northeast Medical Institute and test right after you graduate! 
Who Should Attend?
Northeast Medical Institute's CNA course is designed for those seeking employment as a Nurse's Aide or CNA. We highly recommend:
High School Seniors/Juniors (or those who just graduated High School)
We recommend you get clinical experience before spending thousands of dollars at a college to become an RN or LPN without knowing if the medical field is right for you. Our program is used by many Pre-PA, Pre-Med, and Pre-Nursing students to gain clinical experience within nursing homes, hospitals, and within home care.
Individuals seeking a Career Change
Are you looking to change your career and want to get your foot in the door in the medical field? Our CNA course can start you out in the right direction to gain invaluable experience as a nurse's aide. As a CNA you will work under the supervision of LPN's and RN's within nursing homes and hospitals.
Unemployed Individuals
Are you unemployed and need to make money to pay bills that are piling up? You may qualify for our Financial Assistance through The Workplace ( Fairfield Count Residents) and or through The Workforce Alliance ( New Haven County Residents). You may also qualify for funding through Person to Person ( valid for only Fairfield County Residents).
Hands-on CNA Training
Northeast Medical Institute's certified nurse aide program was created with the student interest in mind. We not only will show you the skills and prepare you for the CNA License test we offer on-site, but we will also give you the opportunity to perform these skills in a Long-Term Nursing Home. Our CNA program prepares you to enter into the nursing field with an entry-level position within a Hospital, Nursing Home, Assisted Living, and even home care Agencies.
What Does a CNA/Nurse's Aide Do?
As a certified nurse assistant, your main role will be to perform basic nursing skills. Most of these basic nursing skills revolve around the 22 ADLs ( Activities of Daily Living) we learn in our course at Northeast Medical Institute. As a nurse aide, you must be compassionate enough to care for every patient or resident as your family member. You will also have the opportunity as a CNA to work with medical technology, like billing software, health information software and medical records which would be used for charting. Within a nursing home, a certified nurse aide work under the supervision of licensed practical nurses and or registered nurses. You must have exceptional communication skills since you will be the middle man between the patient and the head nurse.
Nurse's aides' measure and record vitals of the patient
CNAs assist with all forms of activities of daily living (ADLs)
CNAs provide infection control and change bedding
Nurse's aides' document and report observations of patient behaviors
Nurse's aides assist Registered Nurses with required daily tasks
Perform specific lifts using gait belts and or Hoyer lifts
Examine patients carefully to make sure they are not bruising while in bed for long periods
Training Topics Include, But Are Not Limited To
Initial training
Basic nursing skills
Personal care skills
Mental health and social services
Care of cognitively impaired residents
Basic restorative services
Residents rights
Basic Life Support CPR
CNA Job Outlook- USA Bureau of Labor Statistic | CNA Salary
According to the US Bureau of Labor Statistics, employment of nursing assistant jobs are projected to grow 9 percent from 2018 to 2028. This 9 percent growth is faster than any average of growth for all occupations. As the baby-boomers age, CNA's will be needed within long-term care facilities and assisted living facilities. Nurse aides are widely used in the home care industry and CNA's can easily find a per-diem or part-time job depending on where you live. According to a recent survey done in May 2018, the average pay for a nurse aide in the New England area is $39,000. You CNA Salary is heavily modified depending on the location you live in. Enroll at Northeast Medical Institute to become a Licensed certified nurse aide in the state of CT. We have classes starting monthly.
How long does it take to become a CNA?
At Northeast Medical Institute we offer both day and evening courses which take between 2 1/2 weeks to 4 1/2 weeks long. Northeast Medical Institute program offers hands-on training within a long term healthcare facility. All of our CNA instructors are currently working in the healthcare field during their off days. They are able to bring real-life scenarios into the classroom which they can discuss and problem solve. Northeast Medical institute has the same number of classroom and clinical hours as most other schools, however, instead of completing the course in 5-7 weeks we complete our Certified Nurse Aide courses in 2-4 weeks.