Certified Nursing Assistants (CNAs) are a crucial part of the medical field | Northeast Medical Institute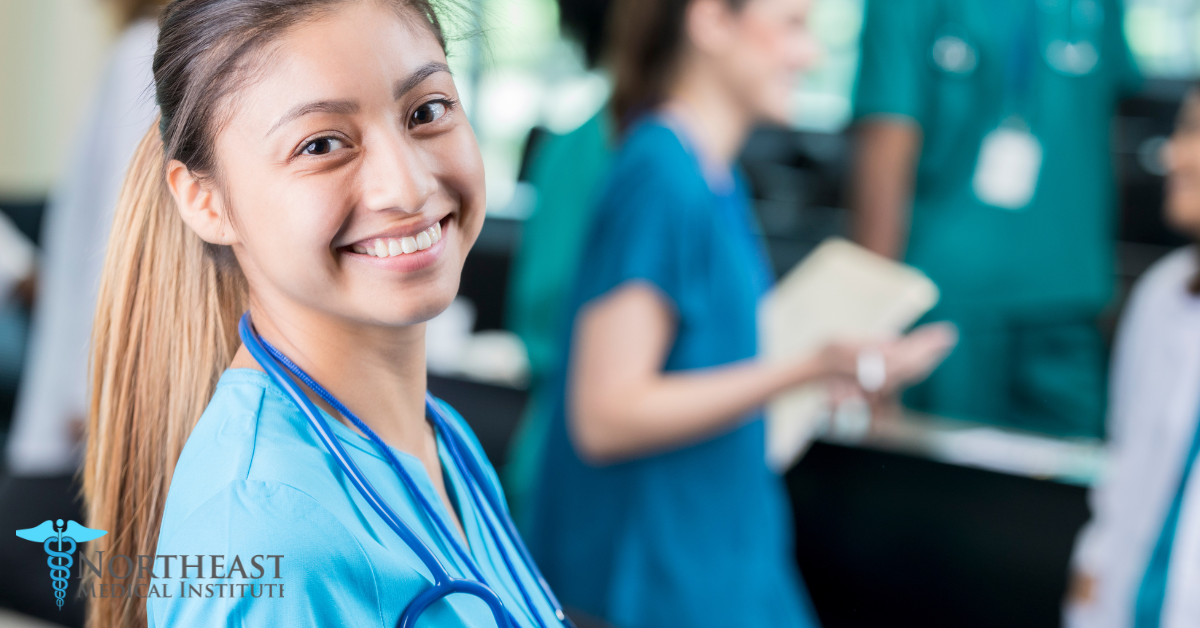 CNAs play a crucial role in the medical field, providing essential care and assistance to those who need it most. Working in hospitals, nursing homes, assisted living facilities, and private settings, CNAs typically deliver hands-on patient care and support services under the direction of a registered nurse or physician. They may provide basic nursing care such as bathing, dressing, and grooming patients, as well as helping them move around the facility or complete other daily tasks. CNAs also often provide emotional support for patients, family members, and caregivers. In an ever-changing healthcare environment full of challenges, CNAs are committed to providing quality care with compassion and empathy.
The essentials of being a certified nursing assistant
Being a Certified Nursing Assistant (CNA) is an incredibly rewarding role in the healthcare field. Working with patients and providing care requires specialized skills and knowledge. CNAs are responsible for helping to keep their patients safe, comfortable, and informed about their care and treatment plans. They assist with basic hygiene needs like bathing and toileting, as well as help maintain mobility. Additionally, they are trained to take vital signs accurately and document patient information correctly. CNAs also provide emotional support to both patients and their families.
To become a CNA, you must first complete an accredited CNA training program. Programs are typically offered through local community colleges or vocational schools and can take from four to eight weeks to complete. After completing the program and passing the state certification exam, CNAs need to apply for positions in hospitals, nursing homes, or other medical facilities where they can gain clinical experience. Once accepted, CNAs are required to go through an orientation period and complete additional on-the-job training with a certified nursing assistant supervisor. CNAs play an important role in patient care, as they provide compassionate services that aid patients in feeling safe, and comfortable.
How you can make the most of your CNA certification
As a Certified Nursing Assistant (CNA), you have the opportunity to make an impact in the lives of patients and their families. The key to making the most of your role is to stay up-to-date on the latest advances in nursing and healthcare, as well as develop strong communication skills. Here are some tips for getting NA Certification:
Stay Connected with Other CNAs: Being part of a network of other professionals in the field can give you access to invaluable resources, advice, and support. Attend conferences or join online discussion groups to stay up-to-date on best practices in nursing care and to connect with other nurses from all over the world.
Continue Your Education: Regularly attend continuing education courses to stay up-to-date on the latest industry trends and regulations. Additionally, consider pursuing a higher degree in nursing to open up more opportunities for career advancement.
Develop Leadership Skills: As a CNA, you will encounter situations that require strong problem-solving and decision-making skills. Get involved in your local CNA community, become a mentor to new CNAs, or take on a leadership role in an organization related to nursing care.
Take Advantage of Opportunities for Advancement: As you gain more experience, look for opportunities to advance your career. Consider applying for a position as a nursing supervisor or taking on additional administrative responsibilities. You could also pursue specialized training in areas such as gerontology or wound care.
The impact that CNAs have on the medical field
CNAs provide a unique level of care and support for patients, especially those who are living with chronic illnesses or disabilities, as CNAs are trained to be sensitive and understanding to their needs. They help assist patients in completing everyday tasks such as bathing, eating, grooming, and other activities that require help. They also take vital signs such as heart rate, temperature, and respiration rate to monitor the patient's progress while they are under the care of medical professionals.
CNAs also monitor changes in a patient's health and alert medical staff if something seems out of the ordinary. The combination of providing comfort for patients in addition to collecting important data about their health makes CNAs an invaluable asset to the medical field.
By providing around-the-clock care with attention to detail and patience during challenging times, CNAs demonstrate the importance of human connection amid physical healing.
Conclusion
CNAs can make a huge difference in the lives of their patients and the medical field. With patience, compassion, and attention to detail, anyone who is certified can be an invaluable asset.
By continuing your education, expanding your skill set, and dedicating yourself to the job, you can make the most of your CNA certification. The impact that CNAs have on the medical field is substantial and irreplaceable – they bridge the gap between patient and physician in ways that technology cannot replicate. 
Whether it's providing comfort and reassurance or helping to make the medical experience easier, CNAs are essential members of the healthcare team. Their dedication and commitment are invaluable. With their help, patients can feel secure in knowing they're receiving quality care.  As a CNA, you can have a positive impact on the lives of those around you.
Continuing your education with Northeast Medical Institute Self Paced Hybrid CNA Course you can help you advance in the field and gain greater career satisfaction. There are many opportunities to pursue additional certifications, such as gerontology or pharmacology, which can open up a wider range of job options. With so much growth in healthcare, and jobs predicted over the next decade, now is an ideal time.